Guest Post: Robert Slater on How the Power Stays on When the World Shuts Down
I'm pleased to welcome Robert Slater, author of The Deserted Lands series, to the blog. For fans of The Girl at the End of the World who are looking for another tough heroine in a post-apocalyptic landscape, Slater's books are just what you've been searching for. Even better, the first two books in the series are on sale for a limited time; you'll find the details at the end of Robert's post.
---
ALL IS SCIENCE – Utilities
Most apocalyptic novels have some sort of intense disaster that wipes out everything. It might be a disease as in Richard Levesque's Girl at the End of the World or Mindy McGinnis' Not a Drop to Drink. It might be something cosmic like Susan Beth Pfeffer's Life As We Knew It or sometimes even both events like Austin Aslan's The Islands at the End of the World, or three as in Matt de La Pena's The Living.
So, when I killed off 95% of the population and left most of the infrastructure working, I was surprised that people fussed. The most frequently asked question in regards to my apocalyptic novel, ALL IS SILENCE, is: "How come the electricity, internet and cell phone systems still work?" After being slightly stymied the first time, I have come up with a number of overlapping realistic fictional and/or logical explanations for this.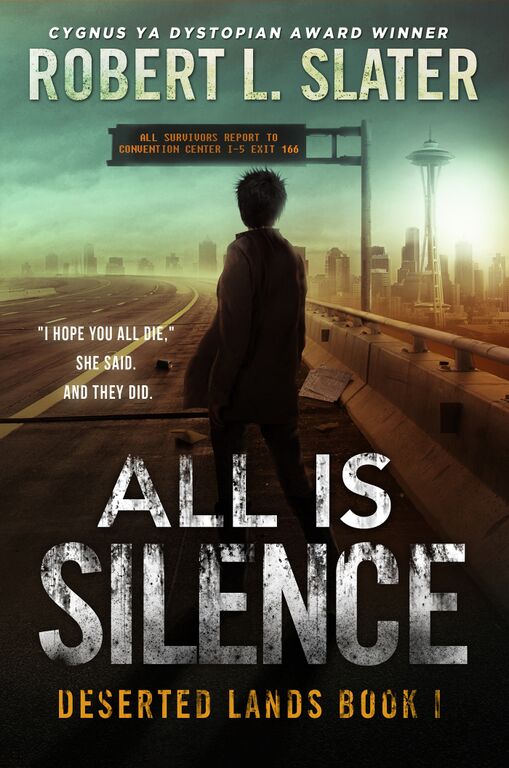 Caveat number one: THE DESERTED LANDS series is set in an alternate future universe with a divergence somewhere between 2008 and 2010. So, I get to pursue both what will be and what might have been. It's also a work of fiction and I'm an incurable optimist, in spite of the fact that I write apocalyptic and dystopian science fiction. It does have an optimistic and hopeful candy core.
That said, I have endeavored to do my best to make the reality of the Deserted Lands universe a plausible one so that the characters have a much different experience from their compatriots in other apocalypses: zombie, alien, nuclear war, EMP, and otherwise. I wanted to write a YA novel inspired by the Stand, but without the paranormal. Since I started writing the series in 2012, I've done extensive research in the various areas of disease contagion, electrical, nuclear, natural gas, cell phone systems, and internet. My sources are scientists and doctors, as well as, people working in these areas.
When I started thinking about the Deserted Lands universe seriously, there were some very positive signs that the United States would invest in a lot more renewable energy as well as upgrading our aging electric grids. What should have happened in the last three years is the beginnings of the overhaul of our three major electric grids that has been needed for at least 15-20 years. In addition, the opportunity to invest in alternative energy infrastructure has been available, see what Germany has accomplished in the last several years. All of this should be happening over the next four years before my fictional pandemic takes place in late 2019.
The other significant element is that most of the Deserted Lands stories, so far, take place in the west where we have a much higher percentage of hydro and wind power. Solar installations are also very much on the increase, but not nearly as many as I'd like to have seen by now. A hydroelectric power plant will go months to years without significant human intervention and I hope our ability to monitor remotely and repair robotically increases.
As for cell phones? In the event of a disaster the systems would almost certainly go down, but as soon as the amount of calls reduces, most will reset. So as long as they can maintain electricity, they should work fine. There will be places where transformers have blown, trees have fallen on power lines, but there is no reason to believe that these automated systems wouldn't keep going on for some time. I may have gone too far with my postulation of a BlueTruth system that would allow cell phones to create an ad-hoc network. Though as soon as I had published book II I found out that there is another similar system that uses cell phones as nodes, downloading voicemails when they get signal and pair with other systems to extend the communication net.
My "What If" was how would people react if humanity is decimated? Those who remain could have all the possessions they wanted, and all the food and gas they needed for a few years. The cost? Losing most everyone you've ever known. The outcome? Come to my Deserted Lands website, sample some of the fiction, and you can decide if I was right or wrong. ALL IS SILENCE is 50% off at $2.99 the entire month of November and TOILS AND SNARES is 75% off at $0.99 for a few more days.
All Is Silence Austin Aslin Bargain Books Life as We Knew It Matt de la Pena Mindy McGinnis Not a Drop to Drink Post-Apocalytpic Novels Robert Slater Susan Beth Pfeffer The Deserted Lands The Girl at the End of the World The Islands at the End of the World The Living Toils and Snares YA Post-Apocalypse